FREE TO JOIN!
AFFILIATE PROGRAM
Start earning today!
Here's how it works:
1
You apply and are approved as an affiliate partner.
2
We provide you with a variety of effective banners, links and promotions to use on your website.
3
Your visitors click on those provided links and make a subscription purchase(s).
4
We send you a check each month based on the amount of sales generated by your visitors.
It's that easy! Membership is free, so apply and join today!
As an Affiliate member, you'll have dedicated brand managers helping you market some of America's favorite magazines!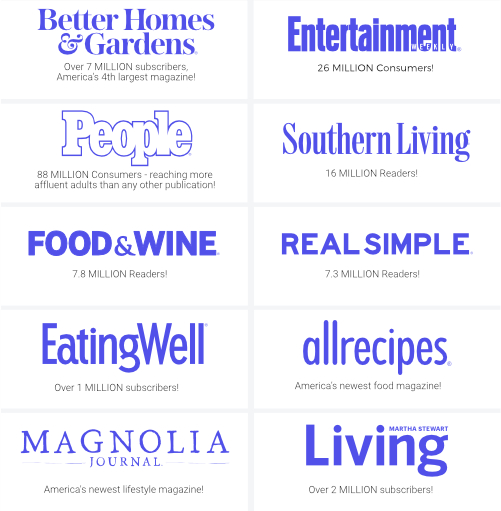 Over 7 MILLION subscribers, America's 4th largest magazine!

26 MILLION Consumers!

88 MILLION Consumers - reaching more affluent adults than any other publication!

16 MILLION Readers!

7.8 MILLION Readers!

7.3 MILLION readers!

Over 1 MILLION subscribers!

America's newest food magazine!

America's newest lifestyle magazine!

Over 2 MILLION subscribers!